¡¡Welcome to the Centro Ecológico Los Cuartos!!

the place where we work, since 1990, to encourage the consciousness about caring for the environment among children, the youth and the public in general, within the setting of the ex hacienda Los Cuartos from the XVI century, with 15 hectares fitted up to carry out our programs, courses and projects.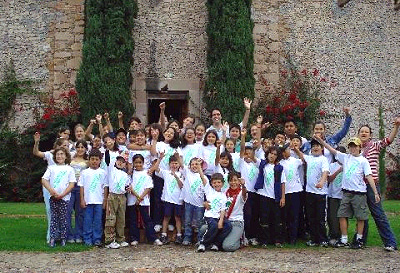 We have attended more than 150,000 children throughout sixteen years of experience, since we realize guided tours and both school and vocational camps all year long.

Throughout the school year, we work with public and private schools, through an agreement with the Instituto de Educación de Aguascalientes (Education Institute of Aguascalientes) and with educational institutes from all over the country, upon their own initiative, attending a total of 10,000 boys and girls a year.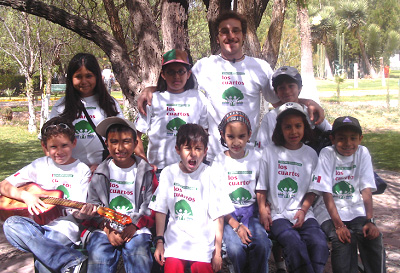 The approach to environmental education begins by experimenting through all five senses: observing, smelling, touching, tasting and listening; putting into common ground the different experiences of the group, complementing information and thinking about conclusions. This task is aimed to link what children learn in school in straight relation with themselves nature, where living coexisting is the most important aspect the participant lives in Los Cuartos.


Premio Nacional Forestal 1996 (National Forestry Award 1996)

Premio Estatal al Mérito Ecológico 2000 (Ecological Merit State Award 2000)

National Representation in the II World Water Forum 2000 in The Hague, Netherlands

Expositors in the World Water Congress 2002, Berlin, Germany

Participants in the IV World Water Forum 2006, Mexico City, Mexico

Certification of the Centro Mexicano para la Filantropía (Mexican Center for Philanthropy) with the optimum level of institutionality and transparency

It must be mentioned that our most important accomplishment is that nowadays, one out of three children in the state under the age of 14, has had access to the camps in the Centro Ecológico Los Cuartos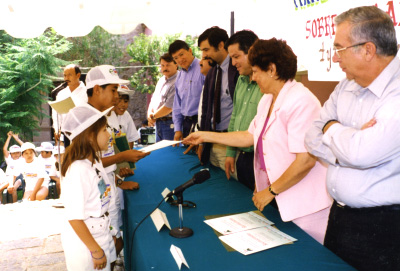 Collaboration and support agreements have been made with public and private institutions, being the most important:
World Bank
British Council
Universidad autónoma de Aguascalientes (Autonomous University of Aguascalientes)
Secretaría del Medio Ambiente y Recursos Naturales (Department of Environment and Natural Resources)
Secretaría de Desarrollo Social (Department of Social Development)
Instituto Nacional de Ecología (National Institute of Ecology)
Instituto Medio Ambiente del Estado (IMAE) (State Institute of Environment)
Centro de Información, Comunicación y Educación Ambiental de Norte América -CICEANA (North America's Information, Communication and Environmental Education Center)
Strategic Alliance with Siijuve (http://www.laneta.apc.org/siijuve/)
Seres Vivoz (Por un país mejor) (Seres Vivoz, for a better country)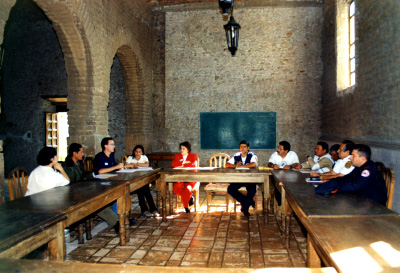 We took part in the Consejo Estatal de Ecología (State Council of Ecology), Consejo Regional para el Desarrollo Sustentable (Regional Council for Sustainable Development), Consejo Coordinador de Organizaciones de la Sociedad Civil (State Council of Non-Governmental Organizations), Consejo de Centros de Educación Ambiental de Aguascalientes (CECEEA) (Council of Environmental Education Centers of Aguascalientes). Furthermore, we belong to the Centro Mexicano para la Filantropía (CEMEFI) (Mexican Center for Philanthropy), to the Asociación para el Progreso de las Comunicaciones "LANETA" (Association for Communications Progress "LANETA"), and to The Border of foundations in New Cork, USA.






Mission

Our mission is to encourage love for nature, protection of natural resources and care for the environment through values that form habits and attitudes in children, youth, and the society in general, through camps, guided tours, excursions, conferences, courses and workshops.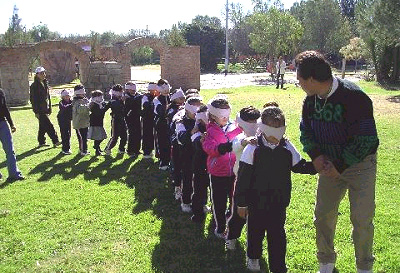 Vision

To consolidate the Centro Ecológico Los Cuartos (CEC) as an environmental community with national and international presence taking part in projects with all social levels encouraging respect towards the environment in a sustainable development setting.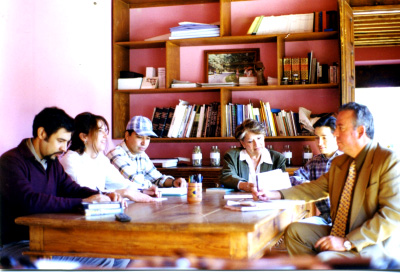 Values

The most important values we work with are:

Friendship, respect, honesty, collaboration, independence, freedom, peace, equity, tolerance and universality.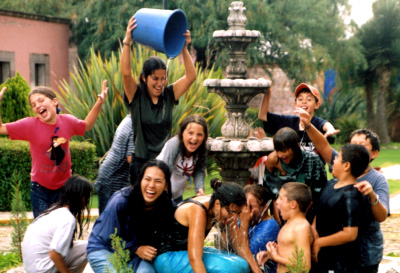 Develop clear consciousness and concern about the interdependence between economical, social, political and ecological conditions in urban and rural areas.

Give each participant the possibility of acquiring the necessary knowledge and abilities to protect and improve the environment.

Create, in individuals, groups and society in general, new forms of behavior regarding the environment.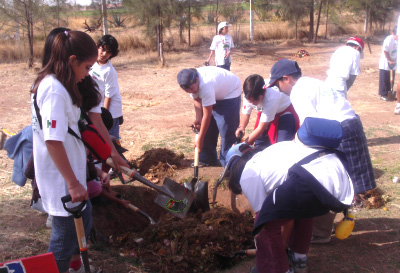 The staff at the Centro Ecológico Los Cuartos (CEC) is constituted by professionals educated in different areas with a humanistic approach towards the problem our planet faces nowadays.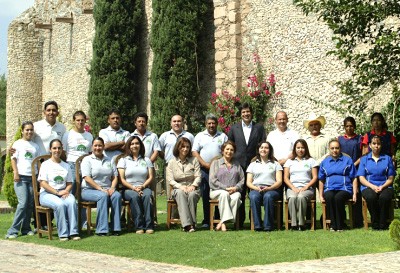 Training is a constant and precise tool in our annual planning, since it allows the CEC's growth and improvement to be continuous. The organization chart is constituted by: Head Office, Management and Accounting, Environmental Projects Office, Public Relations and Communication Department, Social Service and Volunteering Coordination, Secretary's Office, Kitchen Department, Agricultural and Green Areas Department, Transportation Department, Housekeeping and Surveillance Department.





Los Cuartos is an Environmental Education Center located in a XVI century ex hacienda in the Municipality of Jesús María, just 15 minutes away from the capital of Aguascalientes.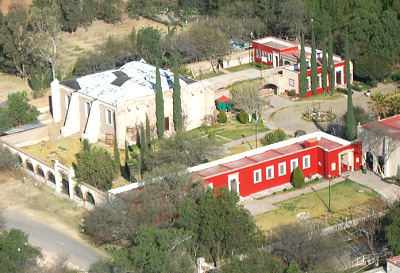 The state is located in the central part of the Mexican Republic. It has an extension of 5,589km2, equal to a 0.3% of the total national territory, with a population of 943,500. Its altitude goes from 1,600 to 3,050msnm (in Sierra Fría), and its temperature varies from 17°C to 38°C (62°F to 100°F).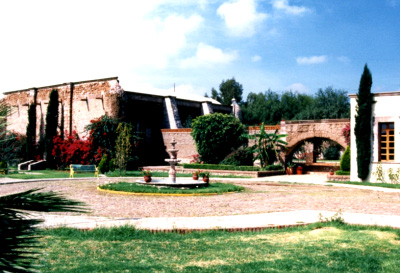 General characteristics of the infrastructure:
Dorms
Refectory
Kitchen
Auditorium
Lab
Library
Multiple uses room
Arcade room
Chapel
Assembly point
Stone Museum
Aquarium
Turtle sanctuary
Nursery
Arboretum
Natural labyrinth
Farm
Compost Area
Organic vegetable garden
Storing Center
Outdoor classroom
Playing ground
Bonfire area
Bread ovens area
Green Areas
Sport fields
Parking lot


Multiple uses room





Dorms





Farm




Lodging

We have two dorms, one for women, and one for men. Each dorm has its own bathroom with various watering-cans, washbasins and WCs.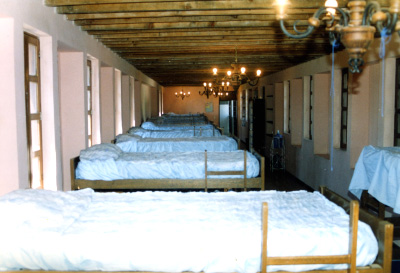 Each dorm has 15 bunk beds, which have bed linen and enough bedspreads, in case someone gets cold.

Both the school's group representatives and the instructors sleep with the children in the dorms to make sure they are resting and taken care of.

Transportation

Transportation for school camps

Los Cuartos has two buses used as local transport for the participants. The drivers have proven ability and responsibility and have collaborated with the institution for more than ten years.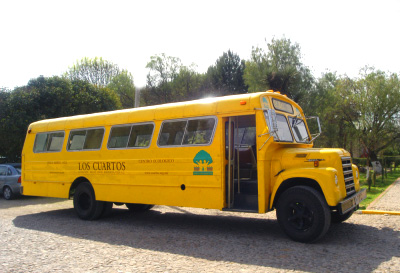 The group's entrance and exit hours are flexible and they are set in coordination with the participating school, depending on the program being carried out and the group's and parents' requirements.

Transportation for foreign school and summer camps

When a participating group comes from a city outside Aguascalientes, we send a first-class tourist bus from a well-known company which we have a collaboration agreement.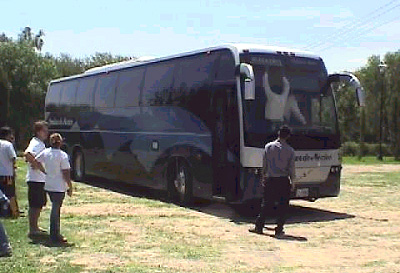 Meals

The cooks, who have been working in the CEC for fifteen years, prepare balanced home made food with natural ingredients. They are clean and careful in food elaboration, seeking, at all times, to balance them so, besides being delicious, they contain the necessary nutrients for a good nourishment as well.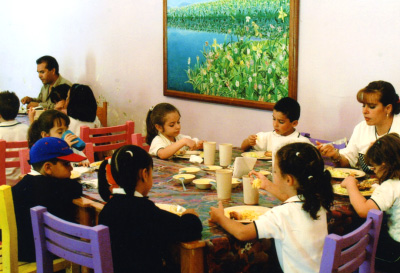 When the group has confirmed their attendance, menus are sent out to the school's camp representative for their selection.

When it's time to eat, each instructor supervises that the participants have adequate nourishment.





Safety is a priority in all of the activities at the Centro Ecológico Los Cuartos.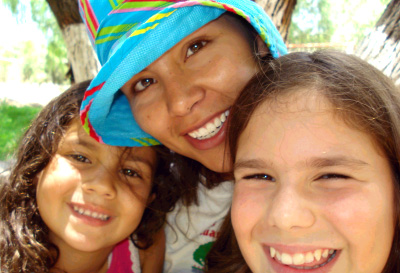 We have very strict safety rules, being the most important:
The right number of instructors for the number of participants
Constant counting of the participating group
The participants must know the CEC's rules and standards
Team work, therefore, children are never alone during the activities
Activities program all day long, where even breaks are planned and under control
Letter signed by parents or legal guardian authorizing the child's attendance
Information sheet about the child (illnesses, ailments, allergies, medicine he/she takes, recommendations, information about private doctor or health institution, etc)
Surveillance 24 hours a day
Paramedic service
We have a fifteen-year experience working on tours and camps with children ages 4 to 16.